Spelling at Slade
At Slade Primary School, we believe that children need explicit systematic teaching that is continually practised and reinforced, until spelling knowledge is committed to children's long term memory.
At Slade, we use a robust, fast-paced, systematic spelling program called 'Read Write Inc. Spelling'. The spelling programme is for children in Years 2-6 and supports the aims of the National Curriculum to ensure that children:
Spell new words correctly and have plenty of practice in spelling them. Including exception words and homophones.
Spell words as accurately as possible using their phonic knowledge and other knowledge of spelling, such as morphology (the study of the form of words) and etymology (the study of the origin and development of words).
Are supported in understanding and applying the concepts of word structure.
Spell words that they have not yet been taught by using what they have learnt about how spelling works in English.
As part of this spelling program, children have 15-minute whole class spelling sessions, three times per week. The programme is organised into units (that are completed weekly), which each focus on a different spelling rule. Each unit follows the same basic pattern of activities.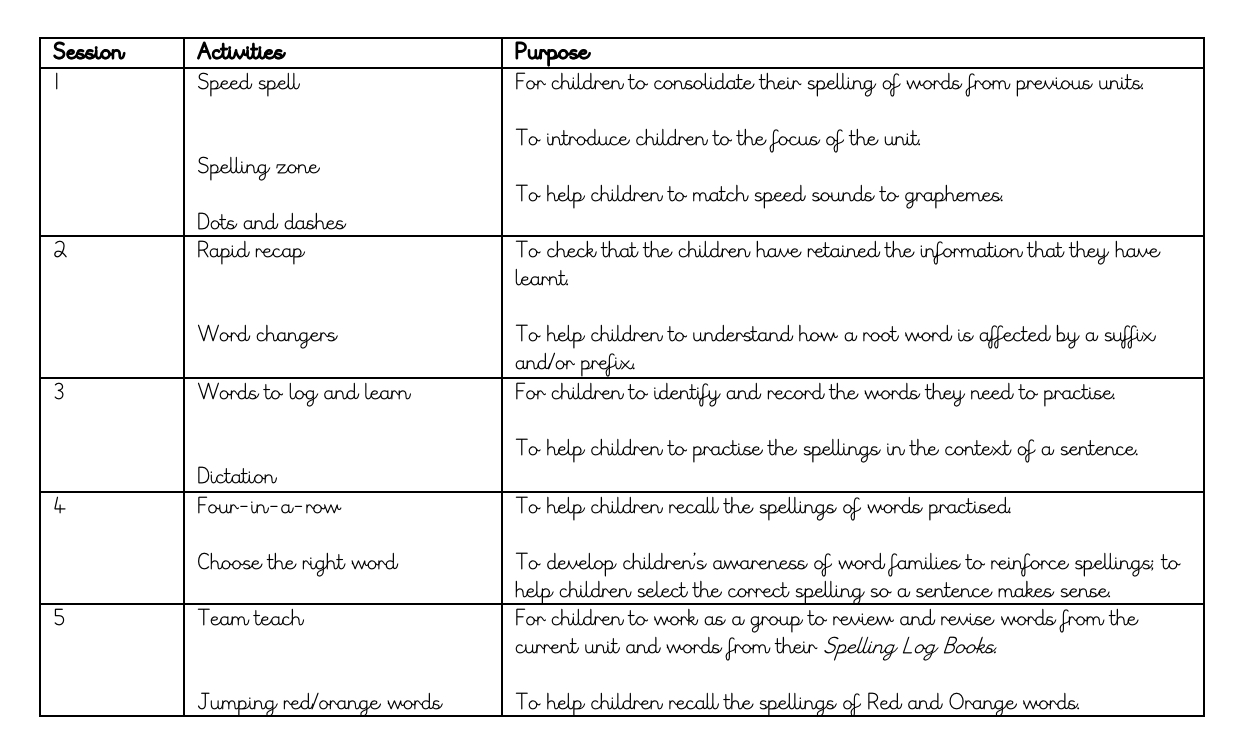 In addition to the 3 weekly sessions detailed above, there are also special focus sessions. These sessions focus on topics or spellings, drawn from the National Curriculum, that can cause confusion and include:
Homophones
Silent letters
Apostrophes
Contractions
Red words (Year 1 and 2 common exception words)
Orange words (Year 3/ 4 and 5/ 6 word lists)
Children's spelling knowledge is assessed half termly using RWI spelling materials, which follow the same format as the end of Key Stage 1 and Key Stage 2 spelling tests to familiarise children with the approach.