Reading
"Our curriculum will be enriched with experiences, immersive and child-led, allowing children to explore the wider world around them."

At Slade Primary School, we place reading at the heart of all that we do, ensuring that our children leave Slade with a love of reading. We are aware that this love of reading stems from equipping our children with the necessary tools to be skilled readers, exposing them to high quality texts that are vocabulary rich and exploring them to increase their breadth of vocabulary. We believe that reading should underpin the entirety of our curriculum and offer knowledge-rich reading opportunities that inspire, empower and educate our children towards future success.
We understand that as well as developing these skills, a love of reading comes from providing opportunities to read that stretch far beyond that of the classroom. We structure in whole class, peer-to- peer, peer-to-parent, small group, and individual reading opportunities, as well as utilising quiet spaces around the school to enable children to read in a calming environment. In addition, we encourage reading at home through home reader expectations, parent workshops, book competitions and offering online reading opportunities.
Continuous Provision
Continuous provision offers many opportunities for children to develop the skills required for reading. Speaking and listening are two of the first skills that are focussed upon in Early Years and Year 1. These are developed through listening to stories, shared reading with peers in provision or as a group, role play and the development of children's oracy skills through conversations in continuous provision. These conversations begin to build the foundations across each reading domain, developing skills that will enable children to become effective readers. Through continuous provision, children are exposed to a vocabulary rich environment and explicit teaching of vocabulary exploration.
Adults will showcase a love of reading through high quality reading areas and age appropriate texts that are available for children within all areas of the provision. Adults read regularly to children, which entices them into the world of reading. Teachers instill a love of literature in our children, providing them with the best stories and poems. They also use timely adult intervention to signpost children to books which can further enhance their learning in continuous provision.
Guiding Reading
The purpose of guided reading at Slade is to develop fluency, improve verbal reasoning (developing oracy through articulating reasoning clearly) and delve into literacy knowledge (print of book, genre, fonts, blurbs etc.). Group guided reading sessions are scheduled daily (15 minutes at the end of each day). Group sizes will be no larger than 6. Initially, children will be asked to read in partners, with the teacher facilitating, listening and offering feedback to improve fluency. Key learning opportunities will be planned at specific points to allow group discussion. Evidence is recorded in guided reading folders to highlight progress or development areas. This should not take away from your group discussions. Additional guided reading sessions are planned and timetabled for children who are below the expected standard of reading.

Further Reading

Reading lessons occur daily and are at least 30 minutes long, with catch up sessions planned during fluency slots if needed.

Through whole-class reading lessons, children are given the opportunity to both enjoy and forensically explore a wide range of high-quality texts.
Each reading domain is characterised into characters that personify the skills required to analyse a text using that particular domain. This level of dual coding supports our children of all different backgrounds in understanding the expectations of each domain and acts as a learning aid during comprehension.

Reading lessons are sequenced into units, with each unit consisting of key components (based on Scarborough's Reading Rope) that we believe
ensures children develop into skilled readers. A typical reading unit would have the following components: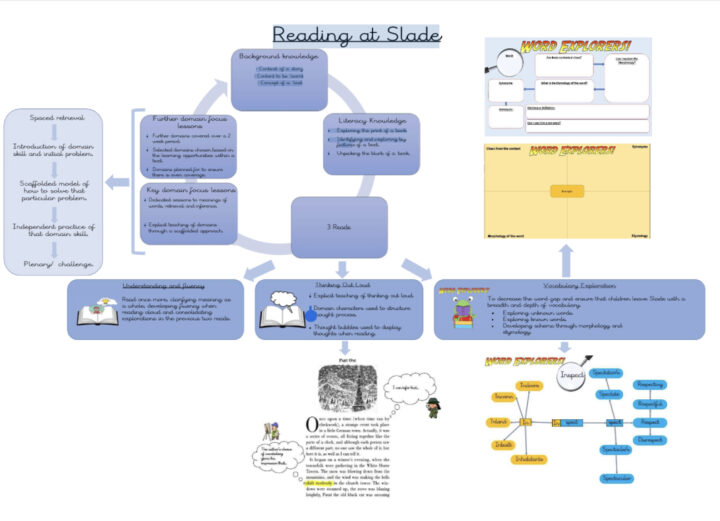 Supporting SEND pupils with reading

At Slade, we have a variety of strategies to suit different pupil needs when following the 'assess, plan, do, review' system to support reading. We have a range of baselining tools available to us, which consist of: York Assessment of Reading and Comprehension (YARC), RWI phonics assessment, Birmingham Toolkits for learning and British Vocabulary Picture Scale (BPVS).
The staff are trained in how to implement these assessments and analyse the result to provide the most appropriate support. Our Inclusion Leader also supports staff in interpreting the results and planning support. Our teachers are also skilled using the Birmingham Toolkits for Learning when planning lessons and activities, which can support small steps of progress which we track carefully and half termly. If we find that, despite interventions and the graduated approach being implemented, the rate of progress is still not rapid, we would then arrange for children to be assessed by our Pupil School Support (PSS) specialist to guide us further. Some of the research led, evidence based interventions we use, as recommended by the experts, are Words First and Toe-By-Toe.

Supporting EAL pupils with reading

Support for EAL pupils with reading can follow similar pathways to our SEND pupils depending on the level of English and the acquisition of English. We access baselining tools as identified for use with our SEND pupils however, we recognise that the proficient acquisition of the English language can take many years. We look to identify whether a child is proficient in their home language or whether this is also an area of concern. Where it is identified as an area of concern, the pupil would follow the SEND pathway.

We use the Birmingham Toolkit for EAL pupils that can give an additional measure for baselining and progress. We use the school phonics lessons and teaching but can usually accelerate this through daily intervention by teaching multiple sounds. The focus would then shift to the child's understanding of what they read, through pre- tutoring of vocabulary. Vocabulary is already a key element of reading lessons across the school and through exploration of words with their peers, EAL pupils have great reading success.